Your Organizations Name: Raffle For Jewish Baseball Artwork and Experience Package
Buy a Ticket…Get a Prize….GUARANTEED
Grand Prize ($8,000 Value):
1 of 100 Originally Hand Signed Series I Jews in Baseball Pieces, Licensed and Certified Authentic by Major League Baseball
Personal Phone Call From one of the Jewish Players in the Artwork
$100 MVP Club Membership
Jews in Baseball Book/DVD
See short video on creation of the Artwork by Clicking Here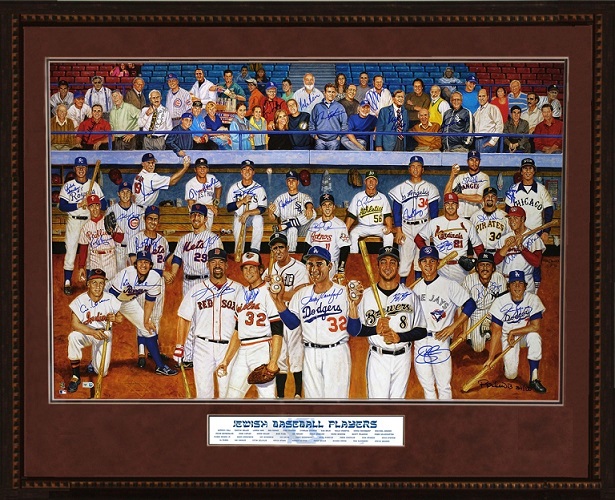 Actual Size (36″ x 44″)
This iconic artwork represents both Jewish and baseball history. The artwork includes original signatures from 26 former and current Jewish baseball players and the original artist.
Signatures Include:
Sandy Koufax  Ian Kinsler  Al Rosen (Deceased)  Ryan Braun  Kevin Youkilis  Steve Stone  Ron Blomberg  Art Shamsky   Shawn Green  Steve Yeager  John Grabow  Gabe Kapler  Joe Horlen  Norm Sherry  Ruben Amaro Jr.  Ike Davis  Mike Epstein  Norm Miller  Brad Ausmus  Scott Feldman  Adam Greenberg  Jason Marquis  Richie Scheinblum  Sam Fuld  Craig Breslow  Ross Baumgarten  Ron Lewis
9 Consolation Prizes
3 – $150 Gift Certificates
4 – $100 MVP Club Memberships,
2 – 8" x 10" Autographed Photos
---
Celebrity and Player Testimonials
---
Larry King – TV Personality

"I've always been proud of my heritage and this is just another page in a never ending book. I think it is a great idea and I'm happy to be a part of it."
---
Bud Selig – Commissioner of Major League Baseball
"This is a wonderful project, just looking at all the names, great players from Sandy Koufax to Al Rosen and on and on and on, I'm privileged to be a part of this and frankly quite proud."
---
Ian Kinsler – All Star 2nd Baseman, Detroit Tigers
"Seeing this painting in person, I have to say it is one of, if not the greatest item I have ever been able to put my signature on."

Jewish Baseball Player and Author Adam Greenberg will be speaking  to your congregation via Skype about his amazing story of perseverance.

Guaranteed Gift Prizes With Every Raffle Purchase:
Spend $50, Get $300 Value in Prizes Including:
8" x 10" Photo of Artwork Autographed by one of the Jewish Player in the Artwork
$100 MVP Club Membership
$150 Gift Certificate
Spend $100, Get $400 Value in Prizes Including: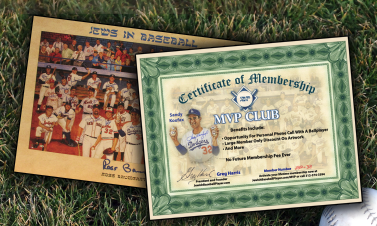 All items from Spend $50 package
Jews in Baseball Book/DVD
Extra 8" x 10" Photo of Artwork Autographed by a different Jewish Player in Artwork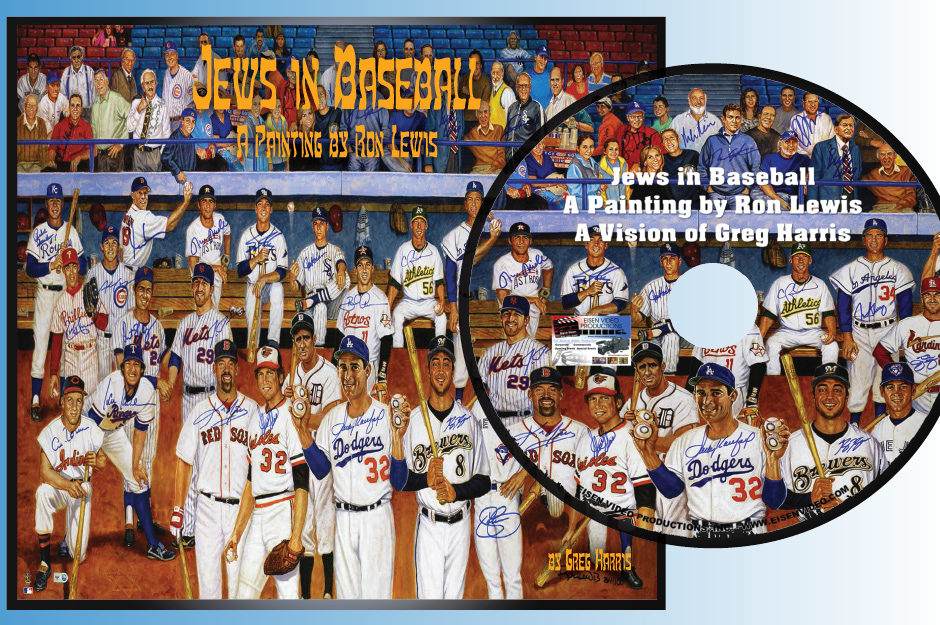 Spend $250, Get $750 Value in Prizes Including:
All items from Spend $100 package
Personal Phone Call From one of the Jewish Players in the  Artwork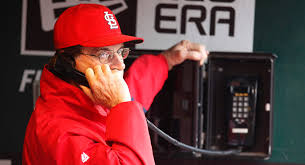 Spend $1,000, Get $1,500 Value in Prizes Including:
All items from Spend $250 package
Full Sized Replica Jews in Baseball Artwork, originally hand signed by famed baseball artist, Ron Lewis (comes framed, shipped, & insured)
---
Contact us at 312-374-3394 or info@jewishbaseballplayer.com

Can't wait to buy it or didn't win?
Buy It Now
Interested in the Book & DVD for $35?
Buy It Now

Did you know?
You can use up to THE FULL AMOUNT OF YOUR RAFFLE TICKETS PURCHASED as a discount towards any purchase of artwork. (up to $500 Maximum)
| | |
| --- | --- |
| Artwork List Price | Maximum Discount |
| $495 (20" x 30") | $50 |
| $600 (24" x 36") | $100 |
| $1,250 Personalized Piece | $200 |
| $6,500 and Up Original Piece | $500 |
---
About JewishBaseballPlayer.com
Jewish Baseball Player.com was developed with two main goals in mind. First, we wanted to put together a product that would combine baseball and Judaism and appeal mainly to the Jewish population, but also to baseball fans as a whole.
We believe that the timing is perfect in that at no other time in baseball history could a group of stars from the past and present be put together at once. The group ranges from 1953 MVP Al Rosen, the most dominant pitcher of the 1960's in Sandy Koufax, 1970's and 1980's superstars including Cy Young winner Steve Stone and World Series MVP Steve Yeager, 1990's 30-30 club and 49 home run hitter, Shawn Green, to the active superstars of today in Ryan Braun, and Ian Kinsler.
The project will also educate people, especially the Jewish population, as to the role of the Jewish athlete in major league baseball.