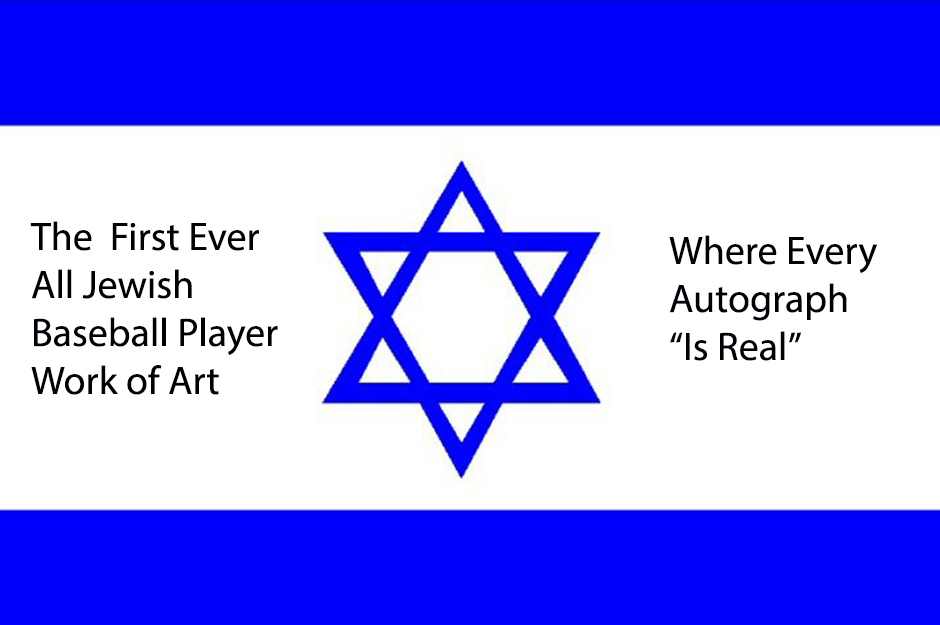 A Short History of Jews in Baseball
The Jewish people developed an early interest in baseball, which had its origins in the 1840s.
·       Lipman E. (Lip) Pike became baseball's first professional in 1866 when he played third base for the Philadelphia Athletics at a salary of $20 per week.
·       In 1882, Louis Kramer helped organize the major league American Association, and was its president in 1891.
·       Barney Dreyfuss, president of the Louisville Colonels in 1899 and owner of the Pittsburgh Pirates in 1900-32, founded the World Series in 1903.
·       Louis W. Heilbroner managed the St. Louis Cardinals in 1900, and nine years later founded baseball's first statistical bureau.
·       Harry (Judge) Goldman was an organizer of the American League in 1900.
·       Hank Greenberg was the first Jewish player elected to the Baseball Hall of Fame.
·       In 1972, Sandy Koufax, former Los Angeles Dodgers pitcher, became at the age of 36 the youngest player elected to the Baseball Hall of Fame.
Jews were significant in baseball in both managerial, ownership and executive roles.
·       Harold (Lefty) Phillips (1969-71) and Norman Sherry (1976-77) managed the American League California Angels.
·       In 1978, former major leaguer Al Rosen succeeded Gabriel (Gabe) Paul as president of the New York Yankees. Rosen resigned as president of the New York Yankees in 1979 and was named general manager of the Houston Astros the following year. From 1985 to 1992, Rosen was president and general manager of the San Francisco Giants.
·       Marvin Miller, served as the executive director of the Major League Baseball Players Association since 1966, retired in 1983.
·       By 1980, Fred Wilpon, New York Mets; Walter Haas, San Francisco Giants; and Jerry Reinsdorf, Chicago White Sox were owners of big league clubs.
·       In 1992 Alan (Bud) Selig, owner of the Milwaukee Brewers Baseball Club, was named chairman of baseball's executive council and given the authority to act as commissioner.  He is still acting commissioner as of today.
Email Us  with any suggestions of information to add
Full List of Jewish Baseball Players Below
| | | | |
| --- | --- | --- | --- |
| Player Name | Debut / Box | Position | Notes |
| Cal Abrams | 04-20-1949 | OF | |
| Lloyd Allen | 09-01-1969 | P | Converted to Judaism |
| Ruben Amaro | 06-08-1991 | OF | Jewish Mother |
| Morrie Arnovich | 09-14-1936 | OF | |
| Brad Ausmus | 07-28-1993 | C | Jewish Mother |
| Jesse Baker | 09-14-1919 | SS | |
| Brian Bark | 07-06-1995 | P | |
| Ross Baumgarten | 08-16-1978 | P | |
| Jose Bautista | 04-09-1988 | P | Jewish Mother |
| Joe Bennett | 07-05-1923 | 3B | |
| Moe Berg | 06-27-1923 | C | |
| Bob Berman | 06-04-1918 | C | |
| Cy Block | 09-07-1942 | 3B | |
| Ron Blomberg | 09-10-1969 | DH | |
| Sam Bohne | 09-09-1916 | 2B | |
| Henry Bostick | 05-18-1915 | 3B | |
| Lou Boudreau | 09-09-1938 | SS | Jewish Mother |
| Ryan Braun | 05-25-2007 | 3B | Jewish Father |
| Craig Breslow | 07-23-2005 | P | |
| Louis Brower | 06-13-1931 | SS | |
| Conrad Cardinal | 04-11-1963 | P | |
| Harry Chozen | 09-21-1937 | C | |
| Tony Cogan | 04-02-2001 | P | |
| Alta Cohen | 04-15-1931 | OF | |
| Andy Cohen | 06-06-1926 | 2B | |
| | | | |
| --- | --- | --- | --- |
| Player Name | Debut / Box | Position | Notes |
| Hy Cohen | 04-17-1955 | P | |
| Syd Cohen | 09-20-1934 | P | |
| Dick Conger | 04-22-1940 | P | |
| Phil Cooney | 09-27-1905 | 3B | |
| Ed Corey | 07-02-1918 | P | |
| Bill Cristall | 09-03-1901 | P | |
| Harry Danning | 07-30-1933 | C | |
| Ike Danning | 09-21-1928 | C | |
| Bob Davis | 07-26-1958 | P | |
| Ike Davis | 04-19-2010 | 1B | Jewish Mother |
| Harry Eisenstat | 05-19-1935 | P | |
| Mike Epstein | 09-16-1966 | 1B | |
| Reuben Ewing | 06-21-1921 | SS | |
| Al Federoff | 09-27-1951 | 2B | |
| Eddie Feinberg | 09-11-1938 | SS | |
| Harry Feldman | 09-10-1941 | P | |
| Scott Feldman | 08-31-2005 | P | |
| Leo Fishel | 05-03-1899 | P | |
| Matt Ford | 04-02-2003 | P | |
| Happy Foreman | 09-03-1924 | P | |
| Micah Franklin | 05-13-1997 | OF | Jewish Mother |
| Moe Franklin | 08-12-1941 | SS | |
| Milt Galatzer | 06-25-1933 | OF | |
| Mark Gilbert | 07-21-1985 | OF | |
| Joe Ginsberg | 09-15-1948 | C | |
| Keith Glauber | 09-08-1998 | P | |
| Jonah Goldman | 09-22-1928 | SS | |
| Izzy Goldstein | 04-24-1932 | P | |
| | | | |
| --- | --- | --- | --- |
| Player Name | Debut / Box | Position | Notes |
| Greg Goossen | 09-03-1965 | 1B | Jewish Father |
| Sid Gordon | 09-11-1941 | OF | |
| Herb Gorman | 04-19-1952 | OF | |
| John Grabow | 09-14-2003 | P | |
| Shawn Green | 09-28-1993 | OF | |
| Adam Greenberg | 07-07-2005 | OF | |
| Hank Greenberg | 09-14-1930 | 1B | |
| Eric Helfand | 09-04-1993 | C | |
| Steve Hertz | 04-21-1964 | 3B | |
| Jason Hirsh | 08-12-2006 | P | |
| Ken Holtzman | 09-04-1965 | P | |
| Joe Horlen | 09-04-1961 | P | Converted to Judaism |
| Skip Jutze | 09-01-1972 | C | Jewish Father |
| Ryan Kalish | 07-31-2010 | OF | |
| Harry Kane | 08-08-1902 | P | |
| Gabe Kapler | 09-20-1998 | OF | |
| Herb Karpel | 04-19-1946 | P | |
| Benny Kauff | 04-20-1912 | OF | |
| Ian Kinsler | 04-03-2006 | 2B | |
| Johnny Klippstein | 05-03-1950 | P | |
| Alan Koch | 07-26-1963 | P | |
| Sandy Koufax | 06-24-1955 | P | |
| Brian Kowitz | 06-04-1995 | OF | |
| Barry Latman | 09-10-1957 | P | |
| Jim Levey | 09-17-1930 | SS | |
| Alan Levine | 06-22-1996 | P | |
| Jesse Levis | 04-24-1992 | C | |
| Mike Lieberthal | 06-30-1994 | C | Jewish Father |
| Lou Limmer | 04-22-1951 | 1B | |
| | | | |
| --- | --- | --- | --- |
| Player Name | Debut / Box | Position | Notes |
| Andrew Lorraine | 07-17-1994 | P | |
| Elliott Maddox | 04-07-1970 | OF | Converted to Judaism |
| Cy Malis | 08-17-1934 | P | |
| Moxie Manuel | 09-25-1905 | P | |
| Duke Markell | 09-06-1951 | P | |
| Jason Marquis | 06-06-2000 | P | |
| Ed Mayer | 09-15-1957 | P | |
| Erskine Mayer | 09-04-1912 | P | Jewish Father |
| Sam Mayer | 09-14-1915 | OF | |
| Ed Mensor | 07-05-1905 | P | |
| Mike Milchin | 05-14-1996 | P | Jewish Father |
| Norm Miller | 09-11-1965 | OF | |
| Buddy Myer | 09-26-1925 | 2B | |
| Sam Nahem | 10-02-1938 | P | |
| David Newhan | 06-04-1999 | 2B | |
| Jeff Newman | 06-30-1976 | C | Converted to Judaism |
| Barney Pelty | 08-20-1903 | P | |
| Jay Pike | 08-27-1877 | OF | |
| Lip Pike | 05-09-1876 | OF | |
| Jake Pitler | 05-30-1917 | 2B | |
| Aaron Poreda | 06-12-2009 | P | Jewish Mother |
| Scott Radinsky | 04-09-1990 | P | Jewish Mother |
| Steve Ratzer | 10-05-1980 | P | |
| Jimmy Reese | 04-19-1930 | 2B | |
| Al Richter | 09-23-1951 | SS | |
| Dave Roberts | 07-06-1969 | P | Jewish Father |
| Saul Rogovin | 04-28-1949 | P | |
| | | | |
| --- | --- | --- | --- |
| Player Name | Debut / Box | Position | Notes |
| Al Rosen | 09-10-1947 | 3B | |
| Goody Rosen | 09-14-1937 | OF | |
| Harry Rosenberg | 07-15-1930 | OF | |
| Lou Rosenberg | 05-22-1923 | 2B | |
| Steve Rosenberg | 06-04-1988 | P | |
| Max Rosenfeld | 04-21-1931 | OF | |
| Si Rosenthal | 09-08-1925 | OF | |
| Wayne Rosenthal | 06-26-1991 | P | |
| Marv Rotblatt | 07-04-1948 | P | |
| Larry Rothschild | 09-11-1981 | P | |
| Mickey Rutner | 09-11-1947 | 3B | |
| Mike Saipe | 06-25-1998 | P | |
| Ike Samuels | 08-03-1895 | 3B | |
| Roger Samuels | 07-20-1988 | P | |
| Moe Savransky | 04-23-1954 | P | |
| Al Schacht | 09-18-1919 | P | |
| Sid Schacht | 04-23-1950 | P | |
| Hal Schacker | 05-09-1945 | P | |
| Heinie Scheer | 04-20-1922 | 2B | |
| Richie Scheinblum | 09-01-1965 | OF | |
| Mike Schemer | 08-08-1945 | 1B | |
| Scott Schoeneweis | 04-07-1999 | P | Jewish Mother |
| Bill Schwarz | 08-13-1914 | C | |
| Art Shamsky | 04-17-1965 | OF | |
| | | | |
| --- | --- | --- | --- |
| Player Name | Debut / Box | Position | Notes |
| Dick Sharon | 05-13-1973 | OF | Jewish Father |
| Larry Sherry | 04-17-1958 | P | |
| Norm Sherry | 04-12-1959 | C | |
| Harry Shuman | 09-14-1942 | P | |
| Al Silvera | 06-12-1955 | OF | |
| Fred Sington | 09-23-1934 | OF | |
| Mose Solomon | 09-30-1923 | OF | |
| Bill Starr | 08-23-1935 | C | |
| Jeff Stember | 08-05-1980 | P | |
| Adam Stern | 07-07-2005 | OF | |
| Steve Stone | 04-08-1971 | P | |
| Bud Swartz | 07-12-1947 | P | |
| Don Taussig | 04-23-1958 | OF | |
| Bob Tufts | 08-10-1981 | P | Converted to Judaism |
| Eddie Turchin | 05-09-1943 | 3B | |
| Danny Valencia | 06-03-2010 | 3B | |
| Steve Wapnick | 04-14-1990 | P | |
| Justin Wayne | 09-03-2002 | P | |
| Phil Weintraub | 09-05-1933 | 1B | |
| Ed Wineapple | 09-15-1929 | P | |
| Steve Yeager | 08-02-1972 | C | Converted to Judaism |
| Larry Yellen | 09-26-1963 | P | |
| Kevin Youkilis | 05-15-2004 | 3B | |
| Guy Zinn | 09-11-1911 | OF | |
| Eddie Zosky | 09-02-1991 | SS | Jewish Mother |