Own A Piece of History Today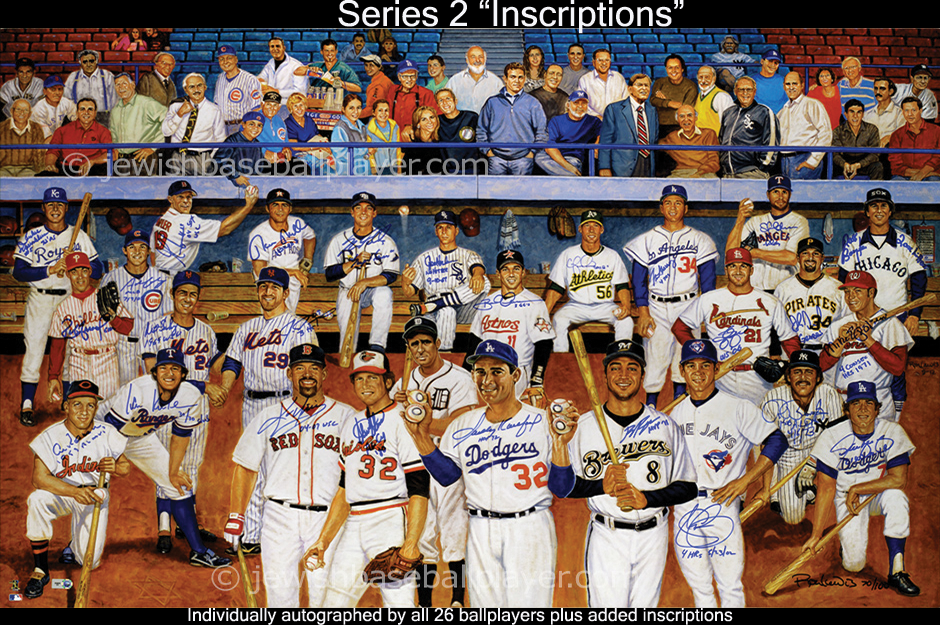 Move your mouse over image or click to enlarge
Series II – "Inscriptions"
Only 100 Total Works of Art in the Series
This Inscriptions Series gives you the simple and straightforward complete set of ballplayer autographs like our Original Edition, but also adds the valuable and descriptive Inscriptions below each autograph, personally inscribed by each ballplayer.
To View the Legend of the Artwork
Every ballplayer has added a personal inscription to his signature, such as HOF '72 for Sandy Koufax, 2011 NL MVP for Ryan Braun, 1953 AL MVP for Al Rosen, etc. These personal touches increase not only the ultimate value of the Inscriptions Work of Art Series, but also the enjoyment in viewing and remembering those special feats
. Each Work of Art in this Series is Licensed by MLB and the MLB Players Association & Certified Authentic via our "Triple Certification" method.
Each Work of Art comes with the following:
One 24" x 36" Work of Art individually numbered and autographed by every single ballplayer depicted on the field and the artist, with every player adding an individual inscription of their accomplishments, such as HOF '72 for Sandy Koufax, 2011 MVP for Ryan Braun, etc.
Personal phone call from one of the players in the Artwork welcoming you to the Jewish Baseball Player Executive Club, including yearly invite to Members/Ballplayers cocktail party.
Highest Quality Matting and Framing in your choice of style,  protected by high end UV glass to prevent fading of autographs, with optional insert including names of subjects in Work of Art
Accompanying Booklet including biographies of all subjects depicted, a history of Jews in baseball, a legend setting out the details contained in Work of Art, a section describing the Making of the Artwork, other fun facts and figures, and blank pages to obtain autographs of future Jewish major leaguers
A DVD documentary including videos from all the signing sessions and a complete story of the Making of the Artwork
Guarantee of Authenticity via our "Triple Certification" method, including MLB certification, photographs of signing, and Certificate of Authentication