Co-Hosted by the Western Region of the Federation of Jewish Men's Clubs.


Men's Club Madness Tourney
January 24 – March 7, 2022
6 weeks — 64 Teams
Co-Hosted by Chizuk Amuno, A Communal Congregation in Baltimore, MD.

"I just finished watching the program. WOW. It was great. We are all in for quite a treat. "
Fully Virtual Entertainment and Fundraising Competition
Without the Colleges, Without the Basketball
AND WITHOUT ANY OUT OF POCKET COSTS!!!
Can Your Men's Club or Brotherhood
Sell One $25 Fundraiser Ticket?
If So, You Keep $16!!
Or Sell 10 and Keep $160!!
Or Sell More!!
EVERY $25 FUNDRAISER TICKET PURCHASED RECEIVES:
Access to 6 Jews in Baseball Zoom sessions with MLB players and 2021 Israeli Baseball Team Olympians – (Click Here for Schedule of Speakers)

Online Entertainment Coupon Book ($25 Value)

8 x 10 of Jews in Baseball Artwork ($15 Value)

$150 Gift Certificate for Jews in Baseball Artwork

Chance to win the Jews in Baseball Artwork valued at $750 – $6,500

41 Remaining Spots!
Early Bird Special: Reserve Your Spot by 1/1 and Get an 8 x 10 of the Artwork for Every Member of your Board!!
Highlights:
Hear the Amazing Story Behind the Artwork

6 Zoom Programs – 1 per Week, Every Monday Night
More Chances to Promote and Sell your Fundraiser Tix

Friendly Competition

6 Week Tournament – January 24 – March 7, 2022
Tips, Trivia and Q & A Every Thursday Night of Tourney by Zoom with Host Greg Harris
Zoom Shout Outs from "Coaches" Art Shamsky of the N.Y. Mets and Ron Blomberg of the N.Y. Yankees Throughout Tourney

Easiest Fundraiser Ever

Host Your Own Fundraiser, While Competing in Ticket Sales with 63 Other Clubs Across the Country!
We Supply All Prizes and Marketing Material
We Supply Free Gifts for EVERY Fundraiser Ticket Purchaser

Fully Dedicated Tournament Website

Updated Scores and Brackets
Smack Talk Lounge

WIN PRIZES & More

Great Prizes For Men's Club Tourney Finalists and Weekly Winners
Earn Additional Funds for Your Club When Someone Purchases Artwork or Schedules Their Own Fundraiser and Mentions Your Club!

HAVE FUN!

Build Camaraderie with Your Club and Others
Enjoy One of Our Zoom Programs with Friends and Family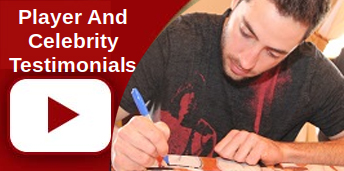 Men's Club Madness Info Below: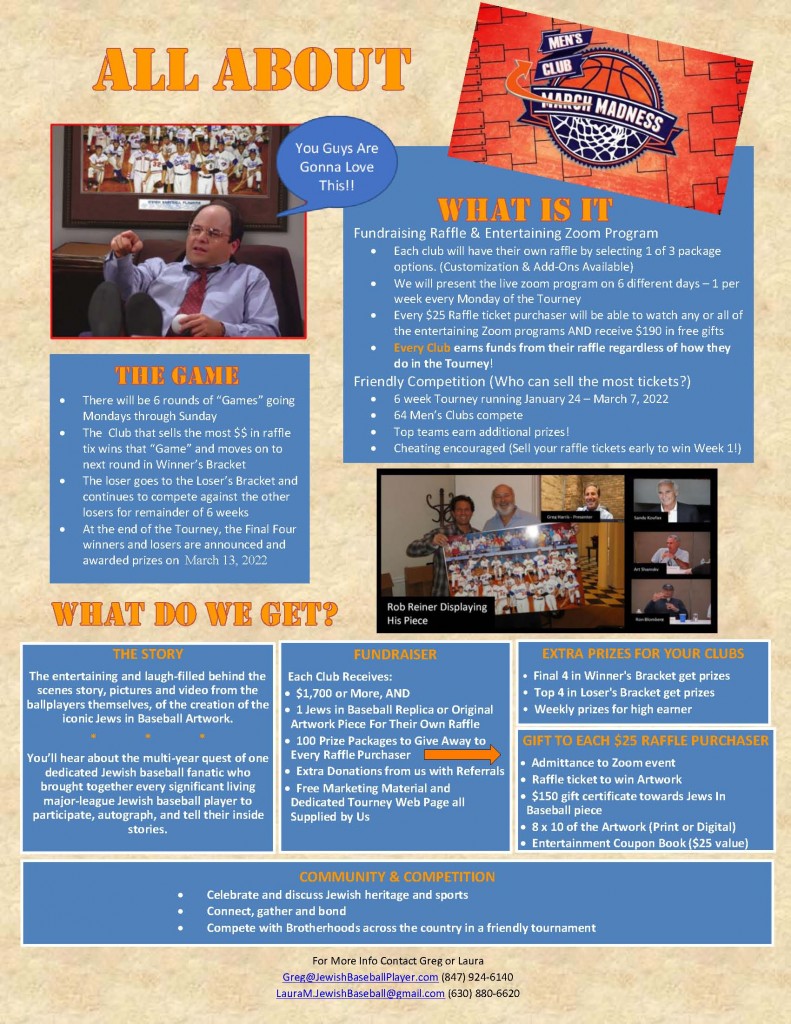 Package Options:
Contact Us: