Call 847-924-6140 for questions on the purchase of any item.
Support Jordan by Purchasing Artwork Specially Discounted for Donors
What is Jewish Baseball Player Artwork?
A piece of Jewish Baseball History, past and present, captured in a Priceless Limited Edition custom designed Work of Art. This all inclusive group has never been assembled in one place before.
By purchasing below, you will be supporting the Jordan Avi Ogman Foundation while receiving a great discount on the Jewish baseball products listed.

Artist Edition: $750 $600

This is an exact replica of the original artwork in its full 24" x 36" size.
It looks exactly like the Original and includes the Original Hand Signature of the Artist, Ron Lewis
Personalized Piece: $1,250 $1,100
Let the original artist include you as a part of history.

Thanks to our artist, Ron Lewis, we are able to have you and any family members or friends painted into the crowd portion of the artwork.
The artist can paint you in wherever you would like, whether it be behind the current crowd, or even directly over one of the fillers in the crowd, who are not baseball executives or celebrities. We will work with you to ensure the painting looks up to your standard before the purchase is final.

Original Artwork: $6,500 $5,750
A 24" X 36" Work Of Art Depicting 26 Current & Former Jewish Baseball Players, Along With 9 Prominent Jewish Figures In Baseball, All Individually Numbered 1-100, Certified Authentic By MLB And With Each Piece Originally Hand Autographed.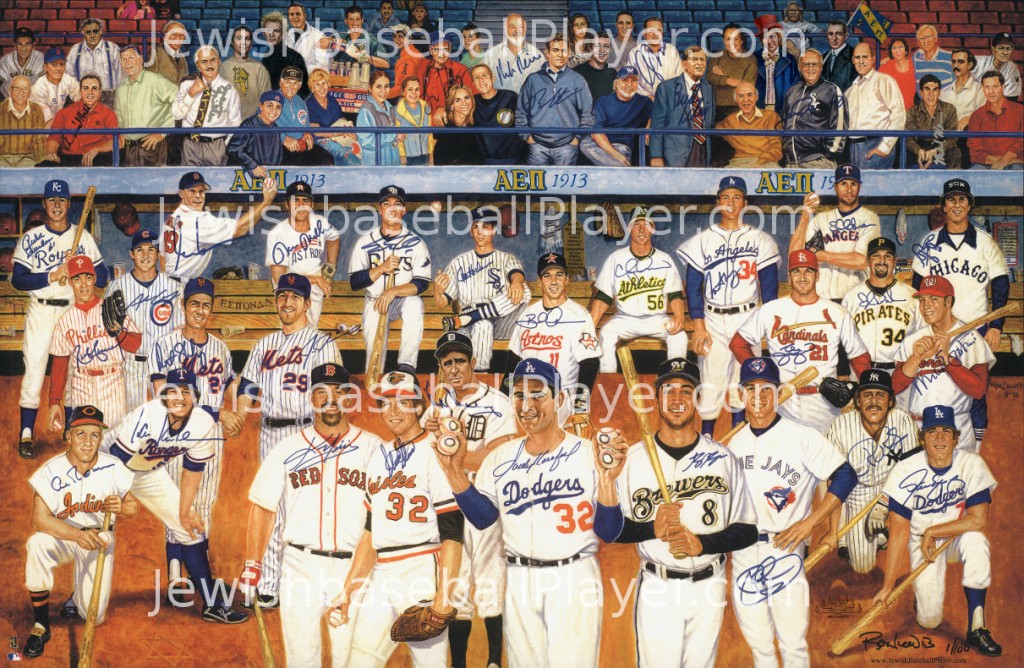 AEPI Commemorative Edition: $995 $925
Replica Jewish Baseball Artwork featuring AEPi alumni and Symbols
AEPi Alumni:
SIMON AND GARFUNKEL -1964/1963
GENE WILDER a/k/a Willy Wonka – 1955
FACEBOOK'S MARK ZUCKERBERG – 2006
JERRY REINSDORF – Owner Chicago White Sox and NBA Hall of Famer – 1957
STEVE STONE – Cy Young Winner – 1969
CHARLES MOSKOWITZ – A E Pi Founding Father – 1914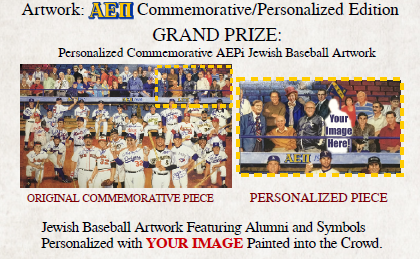 Personalized AEPI Commemorative Edition: $1,495 $1,350
Replica Jewish Baseball Artwork featuring AEPi alumni and Symbols with YOUR IMAGE painted into the crowd.
AEPi Alumni:
SIMON AND GARFUNKEL -1964/1963
GENE WILDER a/k/a Willy Wonka – 1955
FACEBOOK'S MARK ZUCKERBERG – 2006
JERRY REINSDORF – Owner Chicago White Sox and NBA Hall of Famer – 1957
STEVE STONE – Cy Young Winner – 1969
CHARLES MOSKOWITZ – A E Pi Founding Father – 1914