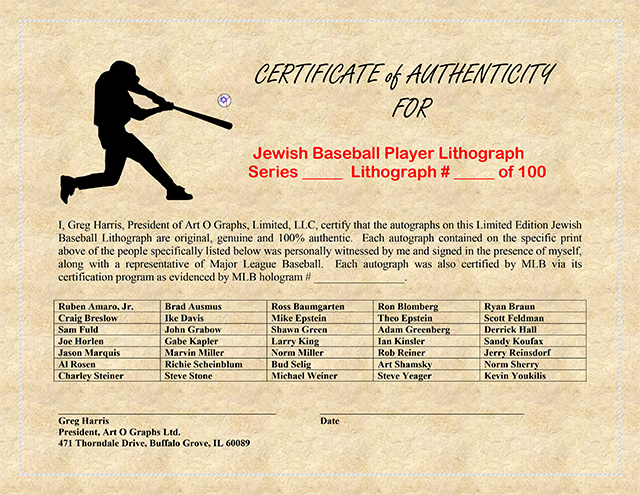 Certification Process
The certification process for authenticity is one of the most complete and rigorous possible, eliminating any possibility of unauthorized duplication, fraud or forgery. By eliminating the possibility of unauthorized duplication or any other type of fraud or forgery, the value of each Work of Art is certain to hold strong, only increasing as time goes on.
Each Work of Art is certified as authentic through our unique "Triple Certification" method.
1. MLB Certification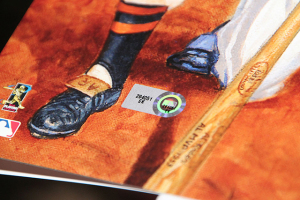 Each piece of Artwork comes with the affixed MLB hologram sticker with an individual identification number.  This hologram sticker itself is virtually impossible to reproduce.  Every single signing was personally witnessed by an authenticator screened and retained by Major League Baseball. The authenticator personally witnessed each signature during the signing session, recorded the individual hologram number correlating to the signed Work of Art, and then input that information into the MLB database The purchaser of a Work of Art can Click Here to log onto the Official MLB website and type in the hologram number affixed to their Work of Art.  The website confirms the product being the Work of Art, and individually list every player who was witnessed as signing that Work of Art with that unique hologram and individual number.
This certification process, is the most secure available.
2. Photographic Certification
Our website contains photographs and video of the actual signing of the Work of Art by each player and personality featured.  In addition, each fully signed Work of Art has been individually numbered and photographed.  The purchaser will receive a copy of the photograph of the fully signed Work of Art, with electronic copies also retained by us.  Thus, any attempt at forging signatures on an illegally obtained blank duplication of the Work of Art, must have each of the 26+ signatures perfectly matched up with the numbered Work of Art previously photographed and authenticated by MLB.  This method will ensure the value of your Work of Art remains high if the purchaser decides to re sell it in the secondary market.  Merely directing a potential purchaser to our website and to contact us will allow them to view the photograph of the numbered and authenticated Work of Art and compare with your Work of Art to ensure authenticity.
3. Certificate of Authenticity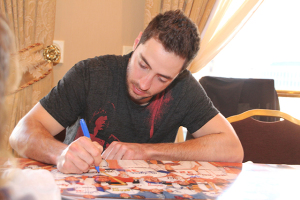 Each Work of Art comes with a Certificate of Authenticity sworn under oath and guaranteed to be authentic.  Greg Harris, President and Co Founder of JewishBaseballPlayer.com, Vice President of the Doug Davis Charitable Foundation, and practicing lawyer in the State of Illinois, was present and personally witnessed every single signature on every Work of Art created in this project.  He will swear under oath as to the authenticity of each autograph, providing the certification of authenticity.